While deep in the dark depths of editing, the cover art for "The Choice" is complete. I'm happy with the results and this adds more fuel to finalize my latest round of edits.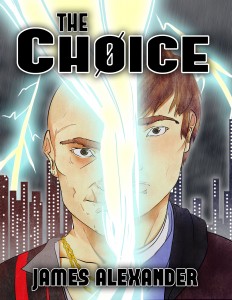 For those not familiar with my latest work in process, the cover shows the theme well. Jared, a young man, is faced with a choice that will split his world. In one world, he must battle free of a coma and in the other, he's a vicious gangster.  Jared discovers that his evil twin switches places with him and he must stop him from hurting those he loves.
I'd love to get some feedback on the artwork!